Review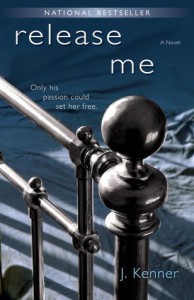 Call the milkman and tell him to bring a lot of empty bottles--we're expecting a lot of milking!

For you to understand what I mean, we should get one thing straight about Release me--it appears that the Fifty Shades and Crossfire trilogies did the dirty, and their first baby is now born, proudly named Release me. That being said, you are now able to predict with 99.9% certainty what can be found in this particular piece of literature--yup, you've got it right; we have a young gazillionaire, super hot, fucked up, kinky dom stalker (and, believe me, stalker he is). We also have a submissive female protagonist who is constantly blabbering about how hot he is and wants to fuck the gazillionaire's brains out right there and then. No plot, no story, just two tormented souls who are expected to fix each other through sex. *yawn*

So, if you've already read the aforementioned trilogies, believe me when I say that you are about to experience a déjà vu on every page. And to explain what I mean when I say milking--there will be a lot of milking in the sex scenes, as well as milking a story that has already been re-written...about a million times.